Kreshatik
How to get: go to metro stations Kreshatik or Maydan Nezalezhnosti.

Kreschatik is Kiev main street that is located near to district, where prince Vladimir the Great baptized his family once. Probably, the street takes its name from this fact, but under other version, the street was named so because of Kreshchatiy Jar (that is crossed over by transversal ravines). Kreshatik is not very long street – just 1,2 km, but its average width is 75 m. now, and some sections reach 100 m. width. Traffic area takes 24 m., and there are 14-metres footwalks, separated by trees, on the both sides of the street. Chestnut parkway stretches along the right side of Kreshatik, especially beautiful during the chestnuts' flowering in spring.

Kreshatik began its history as a street in the end of 18 – the beginning of 19 centuries. At first a district around European (Horse) square was built up. Building was conducted mainly on the right side till Proresnaya Street. Then the building passed to the left side of the road. At that time Kreshatik was built up basically with residential buildings, except for the first Kiev theatre – a manor, constructed under the project of A. Melensky. For this reason the street was shortly called Theatrical. By the end of 1873, the street building reached Bessarabsky square. Till 1869 main street of Kiev had the name Kreshchatitskaya, and was renamed into Kreshatik then. Till Great Patriotic War Kreshatik was a 3-4-floor street, and its width was approximately 35 m.
Kreshatik

In 1851, first big stone building for a noble family provincial meeting was built. Architect A. V. Beretti was the author of the project. Under the project of this architect building of Institute of noble girls was constructed in 1838-1942. At that time trading and industrial life of Kiev was concentrated in Podol. As far as Kreshatik was expanded and built up, it gradually became new centre of the city business life.

Already by the end of 19 century, Kreshatik was a completely built up street. Here there was a set of shops, banks, various offices. In 1892 first in Russian empire line of electric tram, connecting Kreshatik and Podol, was laid at the street. In the beginning of 20 century House of Russian insurance society was constructed at the corner of Kreshatik and Proresnaya Street under the project of famous architect V. Gorodetskiy. In 1914 Passage, consisting of two parallel cases, connected by collars that formed a passage, was constructed under P. S. Andreev′s project. Passage building was destroyed during Second World War, and during post-war years it was reconstructed. Approximately during the same time buildings of Bessarabsky covered market and Merchant meeting (National philharmonic society of Ukraine), the present places of interest of Kiev, were built.
Maydan Nezalezhnosti

Already in the beginning of 20 century the houses of Kreshatik had a waterpipe, sewer system, gas and electricity. During Soviet period Kreshatik was reconstructed and equipped more actively in 1936-1941. Tram rails were removed, traffic area was asphalted, and more modern type of transport – a trolley bus, started to ply. Trees were landed and lanterns were established at both sides of the street. Reconstructed and repaired shops, as a rule, took places at ground floors of the buildings. Central department store was founded at Kreshatik at that time. As a result of these works, Kreshatik turned to best Kiev street, where administrative agencies, best hotels, shops, theatres and cinemas were concentrated.

Most tragic time for Kreshatik came in days of Great Patriotic War, when the charges put by People′s Commissariat of Internal Affairs blow up. As a result of these explosions and fires Kiev centre burnt out almost completely. At once after clearing of Kiev in 1943, a recovery work began. In 1948 realization of a general layout of Kreshatik restoration, offered by the group of the known architects, began. According to the project, Kreshatik had to transform in a wide highway. The right side of the street was raised on 2 m, buildings were removed deeper, well-known chestnut parkway appeared in front of them. Constructing Kreshatik, architects tried to connect successfully the features of architectural ensembles with natural landscape. Buildings in "Stalin empire style" grew up at the place of destroyed pre-revolutionary one and successfully entered into new Kreshatik image. Main Kiev square, now called Maydan Nezalezhnosti (Square of Independence), was also changed.
Maydan Nezalezhnosti

Reconstruction and development of Kreshatik, caused a lot of different opinions, proceeds even today. In the late nineties of the last century it was decided to transform Kreshatik in a foot zone during days off and holidays.

Legends and myths:
There is a legend that in 1917 during an excavation, a silvery cylinder of three metres diameter and 50 metres height was found out near Kreshatik. It could not be dug out and was dug in again. But when the ruins were demolished in 1946, the cylinder was found out again, sawn and taken away in unknown direction. People suppose that this cylinder is of extraterrestrial origin, because UFOS is often seen in the sky round Kreshatik.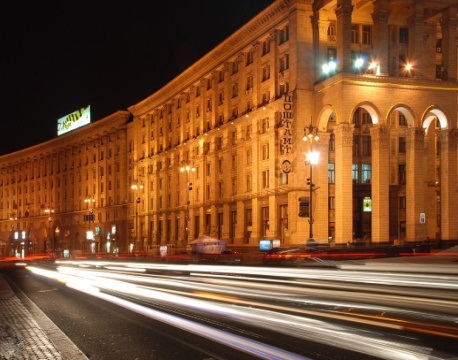 Andreevsky spusk

How to get: go to the metro station Golden gate and then go down Vladimirskaya street till Andreevsky spusk; or go to the metro station Contraktovaya square, pass Samson fountain, walk up to Andreevsky spusk by Uspensky cathedral.

Andreevsky spusk is the second street of Kiev after Kreschatik.
Andreevsky spusk leads from Vladimirskaya to Desyatinnaya street and Contraktovaya square, located in Podol. Top section of the street existed even at the time of Kievan Russia, it connected Old Kiev and Podol and laid between Andreevsky and Zamkoviy hills. But only pedestrians and horsemen could use it. The street was named in honour of Andrey Pervozvanniy. In Nestor's annals it is said that after long attempts to convert Scythian lands to Christianity, about 2 thousand years ago Apostle Andrey blest Dnieper slopes and predicted a rise of a great Christian city. The church named in his honour was build at the place where Apostle Andrey was standing once.

In the beginning of 18 century, according to the instructions of Kiev governor, the passage was widened, and then even loaded carts yoked by oxen could pass there.

After the October revolution, in 1920, according to the spirit of that times, the name of Andreevsky spusk was changed for G.V.Livera′s street, but in 1944 the historical name was returned.

Andreevsky spusk is a street-museum. Throughout all the way you can see something interesting, the bohemian atmosphere of the end 19 - the beginnings of 20 centuries reigns here. Number of the most known Kiev sights situated at Andreevsky spusk includes Andreevskaya church constructed according to the decree of Empress Catherine II under the project of V. Rastrelli. Empress did such favour to Kiev in gratitude for the fact that Ukrainian land presented her with Oleks Rozum, who later became count Razumovsky. Walking down from the church, you can get to park with sculptures of Ivan Kavaleridze placed there. The original monument to the heroes of Michael Staritsky's play - Prona Prokopovna and Svirid Golohvastov, stands not far from the church. One of the most mysterious and enigmatic buildings of Kiev – Richard′s Castle is also located here.

M. O. Bulgakov lived and worked at this street. Now his house is a museum, monument to the writer is established nearby. Having passed downstairs the street from Bulgakov′s house, you will see the restaurant Kot-Begemot (Cat and Hippopotamus), with a memorial board on facade. A whole museum of Andreevsky spusk, devoted to its history, is opened on the street and called "Museum of one street".

Tourists are fascinated by the street colour. Great number of cafe, small restaurants, art galleries, theater studios, painters and traders by subjects of national crafts make a walk along granite stone blocks of Andreevsky spusk a true pleasure.

Legends and myths:
According to the legend, at the place where Dnieper flows today, once there was a sea. Apostle Andrey climbed to a hill, established a cross and predicted a rise of a great Christian city on these lands and the sea waters backed away. And some of the sea waters hid under Andreevskaya mountain. When the first church was built, a spring was found. Since then, wooden churches began to be built at Andreevskaya mountain and were changed becoming obsolete till the present Andreevskaya church was built. It is remarkable, that Andreevskaya church has no bells. People considered that if a bell rings, woken up water will flood not only all Kiev, but also Left bank that was not a city yet.