Welcome to Kiev and Ukraine!

Kyiv is the capital of Ukraine, a state of the Central-Eastern Europe. Ukraine occupies the south-western part of the East- European Plain, and includes a part of the Carpathian and Crimean Mountains. Ukraine′s territory stretches from the north to the south for 893 km, and from the west to the east - 1,316 km. Ukraine has outlets to the Black Sea and the Sea of Azov. The length of the sea borders of Ukraine is 7,590 km. Ukraine is contiguous with the Russian Federation, Belarus, Poland, Slovak Republic, Hungary, Romania, and Moldova.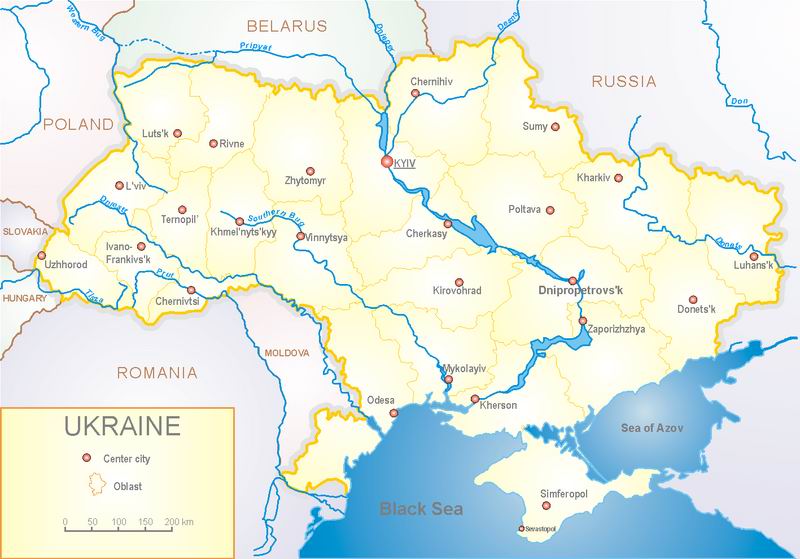 Ukraine is situated in two climatic zones: the temperate latitudes and subtropics of the Mediterranean type (southern coast of the Crimea). The territory of Ukraine is 6,037,000 sq km, that is 5.7% of the European territory, and 0.44% of the world's territory. By Jan. 1, 2001, the population of Ukraine numbered 45,500,000. In Ukraine live people of various nationalities.

New Year′s Day - January 1
Christmas Day - January 7
Women′s Day - March 8
Labour Day - May 1
Victory Day - May 9
Independence Day - August 24
Also: Orthodox Easter, and Holy Trinity Day
Kyivites celebrate Day of Kyiv every last Sunday of May

Time

The time in Kyiv and all over Ukraine - GMT + 2 hours. "Summer" time (last Sunday in March minus one hour), and "winter" time (last Sunday in September plus one hour). In Kyiv and all over Ukraine an 8-hour working day is observed, lunchtime at 1pm-2pm or 2pm- 3pm. Lately many shops, chemist′s shops, and public catering establishments work till 8pm or 9pm without lunchtime.

Money in Ukraine


Money system: monetary unit is hryvnia (Hr, UAH).The Ukrainian money is based on the decimal system; there are 100 copiykas to each hryvnia. All payments are done only in hryvnia. Foreign curren-cy can be exchanged at numerous exchange booths all over Kyiv.
Tip: at restaurants and bars it is customary to leave a tip of 5 to 10 % of the bill.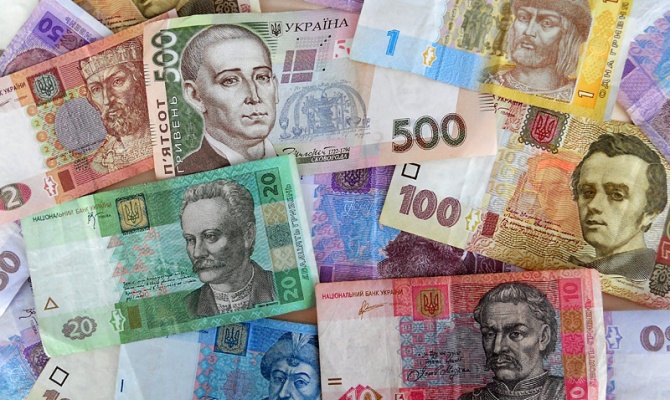 Transport in Ukraine
Metro
The study of the subway system will be very important in order to visit the sights of Kiev and other Ukrainian cities. It′s pretty cheap (metro ticket costs 2 UAH). Subway is safe and relatively easy way to travel. We strongly recommend buying a "bilingual" Metro plan. In addition, the names of subway stations are in Ukrainian and English languages.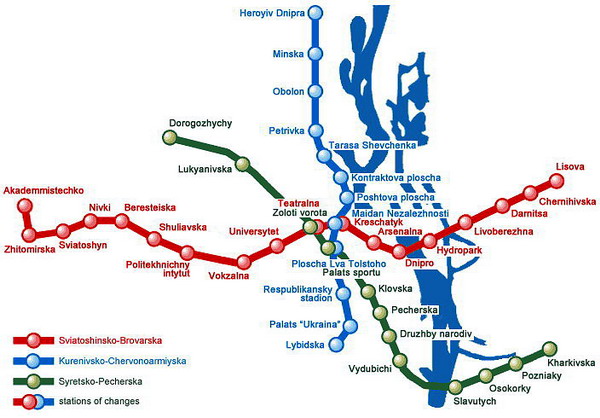 Taxi
In Ukraine Taxis are cheap enough, especially in smaller towns. But the problem is that many taxi drivers don't speak foreign languages. The best taxis are those with their company phone number on the roof. You can use a private taxi, which can be more expensive and less convenient. Average cost of a taxi in Kiev is 50-100 UAH ($ 5-10) for a distance up to 5 kilometers. When ordering a taxi in Kiev, most services will tell you the cost of travel.

Buses and trolley buses
Trolley buses are the cheapest public transport in Ukraine. They are often overcrowded with passengers and not fast as buses (minibuses). Riding by bus is more comfortable than by thetrolley bus, but in the rush hour there a lot of people in buses too. Travel by trolley bus in Kiev costs 1.5 UAH (0.2 $) and by bus - 2- 3UAH (0, 25-0, 4$).

Language


The official language is Ukrainian. Most people understand Russian, as well as many people speak Russian. If you ask a question you will be understood, but remember - very few people speak foreign languages. If you want to visit places of interest, you can hire an interpreter. You can also purchase a Ukrainian phrase book for tourists.

Major cities: official populations


Kyiv - 2,635,300 (realistically approaching 4 million)
Kharkiv - 1,575,900
Dnipropetrovsk - 1,161,200
Donetsk - 1,101,800
Odesa - 1,059,500
Zaporizhya - 887,400
Lviv - 805,900
Kryvyy Rih - 703,000
Mykolayiv - 519,000
Mariupol - 490,000
Luhansk - 493,300